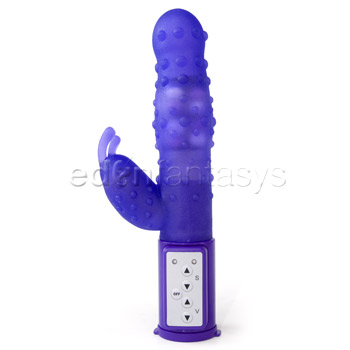 I had another chance to try out a new product from
Eden Fantasys
. I decided to try out the
Pearl Loutus
by Cal Exotics. Let me just say it filled me up and I exploded with a big orgasm! The rotating head easily hit my G-Spot.There are many controls for the rotation and clitoral vibration. The clitoral stimulator has three ticking nubs and has up to three speeds and six different patterns! I loved that the nub wasn't an animal usually most of the toys have clitoral stimulator's I kinda find that weight lol. There is up to 72 different combinations, this toy rotates , vibrates, escalates and is pulsating and the control pad is built it. There is a shut off button which allows quick turn off in the fine time in case you hear someone coming! This toy also requires 4 AAA batteries! The vibrations are very powerful and the nubs did hit my clitoris! I loved it, it felt so amazing! There is also little bumps on this toy that added a different feeling inside me some people might find this a bit uncomfortable but I loved it! Just make sure you have enough lube on it! (:
This toy is waterproof so its safe for bath time play! The toys material is made of TPR. TPR is known have odor but this toy didn't have much of an odor it did have some what of an odor but not to bad! TPR is hypoallergenic and non toxic. Its less porous then cyberskin but more porous than silicone therefore I recommend using a condom with this sex toy to help prevent the spread of bacteria. Silicone and water based lubricates are safe to use with this toy.
The length of this toy is 9 1/2 inches with an insertable length of 5 inches. The circumference is 5/32 while the diameter is 1 7/8. This toy is a decent size not to large and not to small.However each person is different so you might not like the size or might find it to big or uncomfortable. The noise level is pretty quiet, can't be heard in the room next to you! Its quieter in the water which is how I love to use my toys because there is much more privacy and I can relax so this being a waterproof toy is defiantly a plus for me.
All the combinations will defiantly take you to a mind blowing experience! The only down side to this toy is that it takes 4 AAA batteries I didn't have any laying around so I had to run to the store and get some hehe!
(The toy is easy to clean since it it waterproof. It can be cleaned with mild soap and warm water or antibacterial toy cleaners)
I give this toy a 5/5! I recommend it! I can't wait to use it again!